Istanbul, the capital city of Turkey, my second home. That kind of city where you never want to leave. 
Istanbul is full of history and has a strong culture. It is a city  where everything is possible. 
I strongly recommend Istanbul to first Time backpackers and to those travelers on a budget since Turkey is really unexpensive.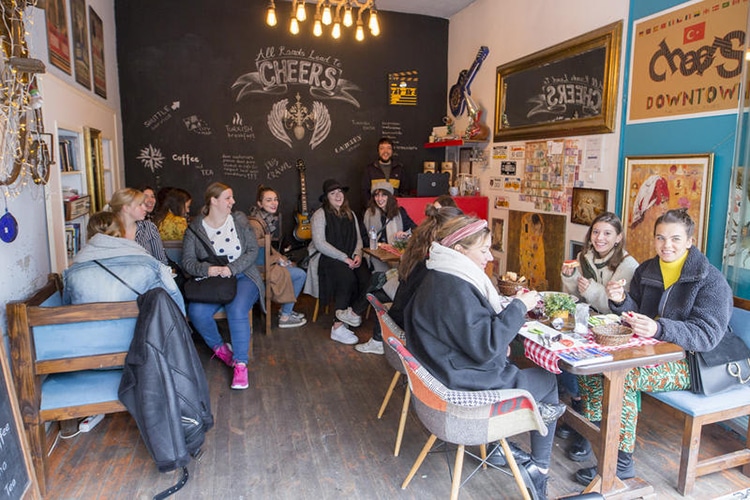 The easiest way, especially for a first discovery, would be to stay in the center of the city. This would allow you to be close to the main tourist places and to be able to visit on foot mainly.
I will recommend to you, for sure, my second home : Cheerz Midtown hostel.
I lived there for a month and I think I only used the metro once.. The city is more enjoyable by foot, in my opinion.
For the airport, you have two options, either the taxi/uber, or the bus that will take you straight to Taksim, the city center.
Let's start your day with the Galata Tower, a former prison, that offers a beautiful view of the city and the Bosphorus.If you want a breakfast or brunch in this area, then go to Galata Frida House Cafe.  Continue your way and pass the Galata Bridge to head to the other side.
Continue straight and head to the Egyptian Bazaar, or the spice bazaar, covered with spices, food and textiles. But the biggest one is the Grand Bazaar, so go ahead. Get lost in the indoor souks and market streets. Between leather, carpets, perfumes and food you will find your happiness. If you are still hungry after the visit of the Grand Bazaar, then let me recommend you Resto Han.
Since Turkey is a muslim country, you will find a lot of mosques in Istanbul, and most of them will be on this side of the city, especially the most beautiful ones. The first famous one is the Blue Mosque and the Sultanahmet Square next to it. Did you know that this mosque countains his founder's tomb below it ? You can visit it, since it's open for tourists, but be respectful to the prayer times of course.
The next one is Hagia Sophia, my favorite one, the former Byzantine church and mosque. 
If you want to visit those two with a small groupe and a guide let me recommend you this tour.
End your afternoon with a walk in the Gülhane Park and the Column of the Goths. Congratulations, you have seen all the best attractions on this side of Istanbul. 
Start your second day with a traditional Turkish Breakfast at Van Kahvaltı Evi, one of my favorite restaurants in the city. You will need energy since you will walk a lot.
Go down to arrive at the Stairs with Portrait. Then you will have to walk a good 25 minutes to arrive at Dolmabahçe Palace, the Sultan's Palace which is now a museum.
But the big walk will be now, since you will have at least 40 minutes to arrive in Ortakoy. The Büyük Mecidiye Mosque is so beautiful to see you don't want to miss it.
If you are tired of walking, then take the bus to arrive at Taksim Square.  Walk around the big street, you will find big brand shops, restaurants, cafés, etc. Don't hesitate to taste Turkish delights at Mado. If you want to have another big meal, then go to Falafel Zone, the woman that owns this place is now a friend of mine.
If party is your thing, then stay in this area to end your day, since all the big bars and the nightclubs will be there.
For me, two days in Istanbul is clearly not enough, since the city has too much to offer. If you have a third day in the city, I can recommend you to take the ferry and go to the Asian side, Kadikoy, the other face of Istanbul, a big favorite of mine.
A few more adresses to eat
Özen Börekçisi
Serince Cig Koftecisi
Falls in Galata cafe & more
Espressolab Cihangir
Cuma
No19Dining
Espressolab Taksim Tünel
Helvetia
Dükkan Galata

Mission Street Food

Jay's Cafe
If you want to buy something, especially in the bazaars, you have to negotiate. It is in Turkish culture and you will have the best prices. 
Have a nice trip !